There are times when I get
so
frustrated with our situation that I can't see the positive. When I'm daydreaming about Franky and Marija having their own rooms, when the thought of Harrison being able to get an uninterrupted nap during the daytime, when I imagine not being micromanaged constantly that it's hard to step back and just be
grateful
.
I'm trying to be more positive. I know that one day when we're in our own house again, I will think back to these days and miss them. I will miss having my entire family in one space again. I will miss waking up at night and being able to lift my head and see each of my children and husband. Someday my babies will be horrified at the thought of sharing a room with me, much less a bed, and I will look back and miss these days when they beg to sleep next to us. I wish I could freeze time. It wasn't that long ago that Mimi was a baby and Franky her age, and all we had to do was be together. Now we're forever juggling everything. And I feel like we're always in a rush. Rushing to get teeth brushed, little bodies dressed, loaded in and out of carseats, school drop-offs and pick-ups, homework, grocery shopping, laundry, bath times, bed times, etc.
The sentimental part of me is dreading Christmas break because that will mean we're already halfway through Franky's kindergarten year, but I'm looking forward to being able to wake up and have nothing to do besides worry about what to make for breakfast and what games and crafts to do with the kids. And Ry will be on winter break too until next semester, so we'll have two entire days with daddy and Franky home. I am hoping that I will get to sleep in at least one of the days. I can't wait.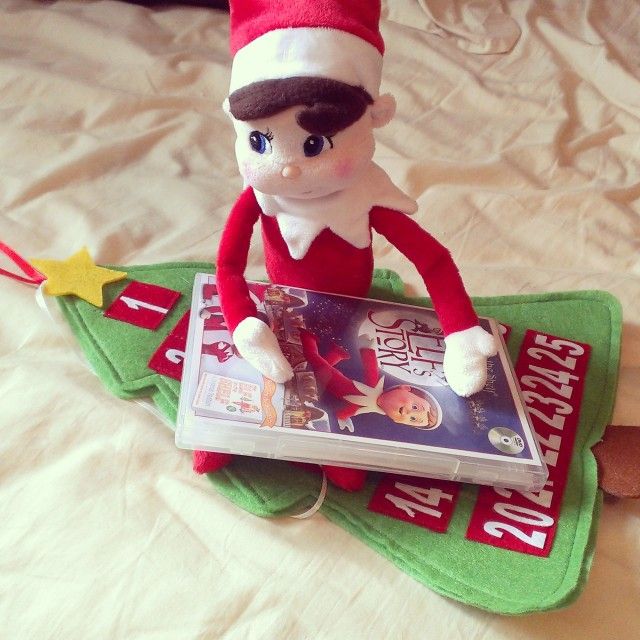 The regular Elf creeped Marija out so we got the plush Elf and the movie instead. He even brought her an advent calendar! :)
This is the first year we're doing the Elf on the Shelf thing and so far, we're loving it. We let the kids watch the movie in the van and they love the story and love seeing "Chippy" in a different spot in the morning. Franky woke up this morning and shrieked when he saw that Chippy had flown to a new spot. We haven't gotten too creative with Chippy's shenanigans yet but I see a cookie and milk breakfast with him soon. I am really loving how much the kids love having an elf and that they truly believe in him. Any time they are doing something they shouldn't be, I remind them that Chippy is watching or that I will tell Chippy that they are misbehaving and they change their attitudes really quick and beg me not to tell Chippy.
Franky inherited my parent's and siblings art skills :)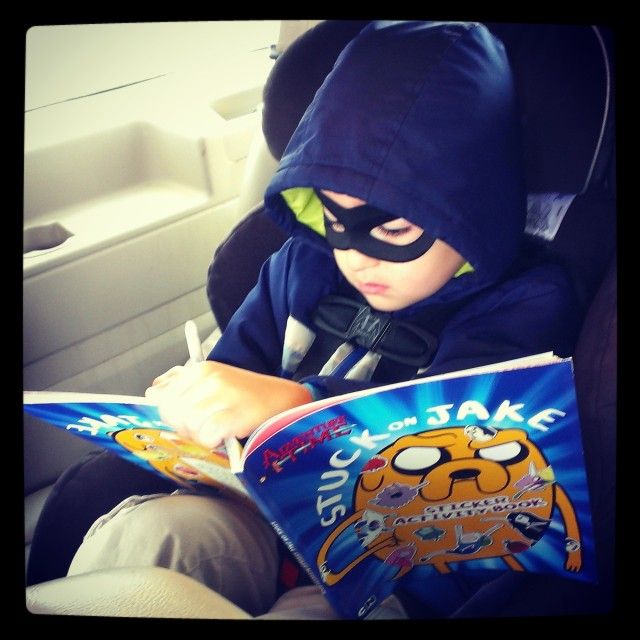 I forgot to send money for his school's book fair a few weeks ago and he was SO bummed out that he didn't get to pick an Adventure Time book. Imagine my excitement at finding this same book at Kroger while grocery shopping. The look on this boy's face when he saw it made my whole day :)
He might be wearing more of his meal than he actually ate. :) This boy is growing so fast. He's at a really fun age where he's curious and loves to crawl around and play. And he is such a curious and enthusiastic eater. I basically feed him whatever I'm eating, but make sure it's much blander and cut up super small. I run most things through the baby food mill. I'm pulling the Beaba out of storage sometime this week too.
She agreed to a teeth cleaning in exchange for cool sunglasses. :)
This girl amazes me on a daily basis. She speaks so much and so well for her age, I sometimes have to remind myself that she's only three. She has the attitude of a 13 year-old, so I'm already catching small glimpses of what's to come, haha! We've taken a very child-led approach to potty training with her and didn't want to push her at all like we did with Franky. We told ourselves we'd introduce it around 2 years old and then follow her lead. She is happy to sit on the potty and will sometimes go, others not. Now that she's three, I'm ready to push it a little more and am hoping that she'll be similar to her big brother and train in just a couple of days. And just like we did with him, we're using the "gummy worm method," lol. When we were potty training Franky we told him that every time he went to the potty he could have a gummy worm. Every hour or so we'd take him to the potty and he went every time. We literally trained him in about a day and were completely accident free in just a few days. Marija isn't big on desserts but girlfriend loves her some gummy worms, so I'm hoping this method works with her too.